Home
Announcements
Assumptions
Board Meetings
Board of Trustees
CBA Docs
City Ordinance
Disclosures
Fallen Heroes
Honor Roll
In The Boardroom
Invest Guidelines
Investments
Newsletters
Our Location
Plan Provisions
Public Records
Service Providers
Summary of Plan
Web Awards

---
Pension Plans
Forms & Policies

---
HPD Facebook Page
Hollywood FOP Lodge

A Thinner Blue Line
Federal Reserve
Memorial 9/11
National Law Enforcement Officers Memorial Fund
Police Honor Guard - Broward County
Today's Weather
Social Security for Seniors

Officer Alex Del Rio
From 04-12-1999 to 11-22-2008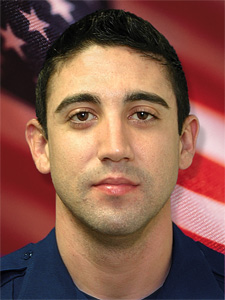 Killed in The Line of Duty
Serving the Citizens of Hollywood, Florida
November 22, 2008
Alex Del Rio Foundation
The Hollywood Police Department sadly reports the line of duty death of Officer Alex Del Rio. Officer Del Rio was conducting traffic enforcement in the 7000 block of Sheridan Street on November 22, 2008, at approximately 8:42 p.m., when he became involved in a motor vehicle crash. Officer Del Rio was pronounced dead at the scene.

Officer Del Rio joined the Hollywood Police Department as a part-time Community Service Aide in February of 1996. In April, 1999, Alex became a Police Officer and held positions in Patrol, Special Operations Motors (the Police Motorcycle Unit) and Special Operations DUI/Traffic Homicide. Alex was highly trained in the areas of traffic enforcement, impaired driving, traffic homicide investigations and police motorcycle operations. Officer Del Rio was the recipient of several awards during his career. He was selected as the Hollywood Police Department's "Officer of the Month" in October of 2003, he was a finalist for the 2003 "Officer of the Year" and he received over two-dozen Supervisor's Commendations and letters of appreciation from our citizens, who repeatedly cited Alex for his professionalism, courtesy, politeness, efficiency and compassion.

Alex was a huge component of the Special Operations Motors and DUI Units' success including awards and recognition from organizations like MADD, "You Drink, You Drive, You Lose" and the IACPA Chiefs' Challenge.

A little more about Alex:
Alex was born in Miami, Florida on January 26, 1977. He lived in Miami until 1993, when he moved to Pembroke Pines. In 1995 he graduated from the MAST Academy High School in Miami. Alex enjoyed competing in the State of Florida Law Enforcement "Police Olympics," where he was a member of the co-ed softball team that earned a silver medal in 2008. He also competed in men's beach volleyball. Officer Del Rio enjoyed living a healthy lifestyle of physical fitness and weight training. Because of his youthful energy and excellent physical conditioning, he was nicknamed "Buff Baby" by his some of his peers on the Department.

He is survived by his loving family, many friends and his "extended family" at the Hollywood Police Department.